Eucalyptus Essential Oil
A  FRESH WOODY, EARTHY, AND STRINGENT INTENSE AROMA
 KNOWN FOR CLEARING THE RESPIRATORY SYSTEM. 
Walking through a eucalyptus forest in Australia you can smell the tree's distinct scent, if you take a deep breath you will inhale the healing effects on your respiratory system straight away. Eucalyptus is an antiseptic and helps reduce fever, relieve sore throats, colds & flu. It can be used in a diffuser to purify the air and prevent the spread of airborne pathogens.
Ingredients:
Botanical name: Eucalyptus globulus (Blue Gum)
Country of Origin: Australia
Plant Part: Wood and leaves
Size: 10 ml
Benefits:
– Improves Respiratory Conditions – Eco-friendly cleaning benefits, Antiseptic properties – acts as an antiseptic – Insect Repellent – Can help treat colds, influenza, and bronchitis.
– Anti-inflammatory properties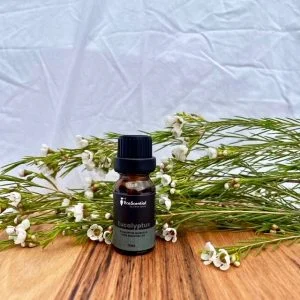 How to use:
Eucalyptus essential oil has so many benefits in fact its medicinal purposes date back for centuries, it was used by the Aborigines for various purposes including healing wounds & repelling insects.  It is very calming and can improve your skin, helps sore muscles, helps your digestive system, respiratory, circulatory system, and much more. Plus it smells great!
– Diffuser: Add 4-6 drops of Eucalyptus essential oil to a diffuser to help clear your airways and allow more oxygen into your lungs, which can boost energy and promote mental clarity.
– Quick fix: A few deep inhalations from the bottle can help unstuff those stuffy noses when suffering from the sniffles.
– Reduce Pain and Inflammation: Add 4-6 drops to a massage oil or carrier oil and massage into affected areas. Can help with back pain or muscle injury.
– Topical: Add 3-5 drops of eucalyptus oil into a carrier oil, such as fractionated coconut oil, and apply it to your chest to ease congestion.
– Cleaning Powerhouse: Eucalyptus oil acts as a natural antibacterial cleaner that'll make your house smell fresh without the use of harmful chemicals. Add 20 drops to a bucket of Hot water for refreshing clean floors
– Shower: Add 2-3 drops to the corner of the shower and enjoy the benefits of steam inhalation.
– Insect Repellent: Add 4-6 drops into a spray bottle with water and spray on yourself to repel insects. Can be used to treat nits
– Rub on Your Feet:  Rub a little into your feet and inhale the comforting aroma as you drift off to dreamland.
Blends well with other essential oils such as Cedarwood, Frankincense, Lemon, Peppermint, & Tea tree.
Warning: Not for use on or near the face in children under 10 years old, may affect breathing and the nervous system. Use during pregnancy with caution.
For external use only. Dilute before use. Avoid contact with eyes. Keep out of reach of children. These safety guidelines are not a complete safety reference for the proper use of essential oils. When in doubt, consult your physician and/or a qualified and trained aromatherapy practitioner
Essential oils are considered too strong for use on babies' skin (0-24 months) and can be overwhelming on their developing systems. When using in a diffuser, use fewer drops than that for an adult (eg. 2-3 drops).
Use this oil with caution around pets, never use it topically and store bottles out of reach.
Store below 30°C in a dry place away from direct sunlight.